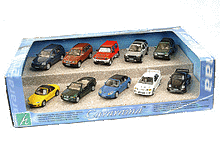 Cararama is a diecast model car manufacturer that is owned by Hongwell. They mostly make common 1:43 models. They don't compete with other manufacturer's as their standards aren't as high as others. Some of the detail is good as they add number plates and opening doors, which are quite rare on most models. Some models are considered as "toys". They also make trucks and emergency vehicles.
Ad blocker interference detected!
Wikia is a free-to-use site that makes money from advertising. We have a modified experience for viewers using ad blockers

Wikia is not accessible if you've made further modifications. Remove the custom ad blocker rule(s) and the page will load as expected.